Behind Greater Phoenix's trade boom is the Phoenix-Mesa Gateway Airport
An expedited Customs inspection complex in Mesa is coming to fruition and will change how cross-border trade is done
by Mark Arend
Photo courtesy: Gateway Airport
Employment at Arizona's more than 820 international companies is growing at more than twice the rate of the state's overall private-sector employment growth. More than 113,600 Arizonans work for international companies 21% of which work in manufacturing. Companies from Canada, the United Kingdom and France employ the most workers of the international companies.
The U.S. subsidiary of Belgium-based Latexco, a leading manufacturer of latex and foam products to the bedding industry, has relocated from Santa Fe Springs, California to Phoenix, Ariz, and doubled the size of its western U.S. production center. The new, 100,000-square-foot facility in Phoenix will produce polyurethane (PU) and latex foam. The $12 million expansion includes new state-of-the-art mattress and topper fabrication and fulfillment capabilities.
Also based in Belgium, aircraft recycling/up-cycling service Aerocircular has recently expanded its operations in North America with a new facility at Phoenix-Mesa Gateway Airport in Mesa. The company plans to create more than 130 jobs over five years at the maintenance, repair and overhaul (MRO) facility — the company's only North American facility.
"The Phoenix-Mesa Gateway Airport is an ideal location for our operation," noted Aerocircular CEO Koen Staut. "Planes can fly right up to our facility and the infrastructure is there to support the transport of parts to the marketplace."
SkyBridge will expedite cross-border trade
Greater Phoenix's secondary commercial airport, after Phoenix Sky Harbor International, Phoenix-Mesa Gateway soon will play more than a secondary role in cross-border trade. It's the location of SkyBridge Arizona, a joint U.S.-Mexico Customs inspection facility now under construction. The $230 million project is forecast to create 6,400 direct jobs and 8,400 indirect jobs and facilitate up to 2,000 cargo flights annually.
The development ultimately will be much more than a Customs facility. The 363.5-acre mixed-use SkyBridge development will include 1.35 million square feet of aeronautical development, 2.19 million square feet of non-aeronautical development, and 270,000 square feet of commercial development.
Additionally, it's expected to become a premier destination for auto parts and food processing as well as an e-commerce business center.
"We are in the final stages of getting approval from the FAA Environmental Assessment Review," says Marco Lopez, president and CEO of Intermestic Partners, an international investment advisory group and founding SkyBridge Arizona partner. "Then we will begin the horizontal construction of the 360 acres that were competed for and won as part of the RFP process with Gateway airport."
At press time, Intermestic was in a 30-day review window for getting Customs regulations adjusted to allow for independent processing of e-commerce shipments into Mexico via Mesa.
"Mesa will represent the first location where these new Customs regulations that we worked on with Mexico will be applied," says Lopez. "They will allow for consumer purchases of e-commerce products to be expedited and delivered to them in Mexico quickly, cutting the process down from 15 days to three or four days."
Lopez says virtually every other customs agency in the world — certainly in Latin America — channels personal consumer purchases through the general commercial import-export process. He says SkyBridge will be the first and only place in the country to operate under the new rules Mexico is now promulgating.
The rest of Latin America
For manufacturers, the benefits are more significant. "If you are looking to grow and expand, or manufacture and ship products in and out of Latin America by way of Mexico, this cuts down time to market by at least 70% to 80%," says Lopez. "By April, these rules will be in place, training will be done by the Mexican authorities, and we'll be able to begin processing packages in Mesa."
The Mexican consumer market will be the first to benefit, but SkyBridge is negotiating with other Latin American markets to expand geographically the benefits of expedited trade. "This will be the bridge to Latin America for a lot of these e-commerce or light manufacturing companies whose products would use an airplane to ship back and forth," says Lopez.
Initially, SkyBridge will use an airline with daily service to Mexico to transport the expedited goods. The plan is that by the third month of operation, enough volume will be moving through SkyBridge to justify a regular charter cargo flight from Phoenix-Mesa Gateway Airport to Mexico City.
Greater Phoenix Greater Together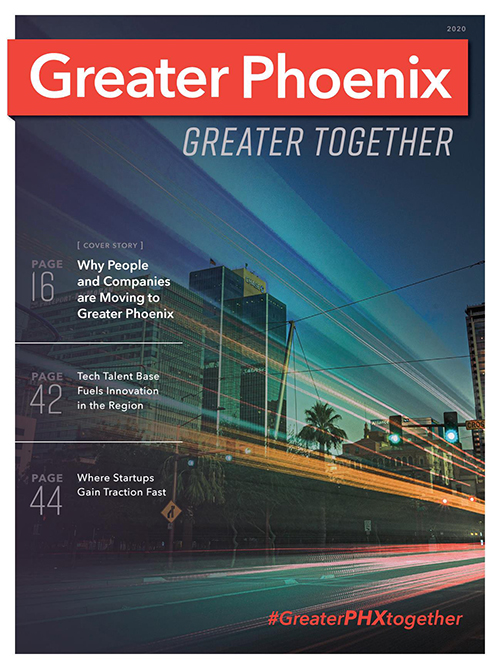 Greater Phoenix is built on collaboration. From technology hubs to manufacturing, business thrives in Greater Phoenix.