5 ways to be cyber secure at work
The Internet of Things is growing all across the world, especially here in Greater Phoenix. With an increasing dependency on the internet, it is important to use caution while online. Businesses are experiencing drastic financial loss when cybersecurity attacks occur. For instance, the Ponemon Institute reported that in the United States the cost of cyber crime has an annual average of $15.4 million per company, higher than any other country. These cyber attacks can be caused by a variety of situations that rely on human error ranging from clicking malicious links to failing to install software patches. The attacks not only put your business at risk, but also your individual employees and your customers.
Here are five ways from the U.S. Department of Homeland Security to be cyber secure at work.
When in doubt, throw it out. Stop and think before you open attachments or click links in emails. Links in email, instant message, and online posts are often the way cybercriminals compromise your computer. If it looks suspicious, it's best to delete it.
Back it up. Make electronic and physical back-ups or copies of all your important work. Data can be lost in many ways including computer malfunctions, malware, theft, viruses, and accidental deletion.
Guard your devices. In order to prevent theft and unauthorized access, never leave your laptop or mobile device unattended in a public place and lock your devices when they are not in use.
Secure your accounts. Use passwords that are at least eight characters long and a mix of letters, numbers, and characters. Do not share any of your usernames or passwords with anyone. When available, turn on stronger authentication for an added layer of security, beyond the password.
Report anything suspicious. If you experience any unusual problems with your computer or device, report it to your IT Department.
Being cyber secure while at work is important to protect your business, your customers and yourself. Fortunately, Greater Phoenix has a large cybersecurity presence where businesses are coming together to make the world safer. Learn how cybersecurity is THE thing in Greater Phoenix here.
Greater Phoenix: The Connected Place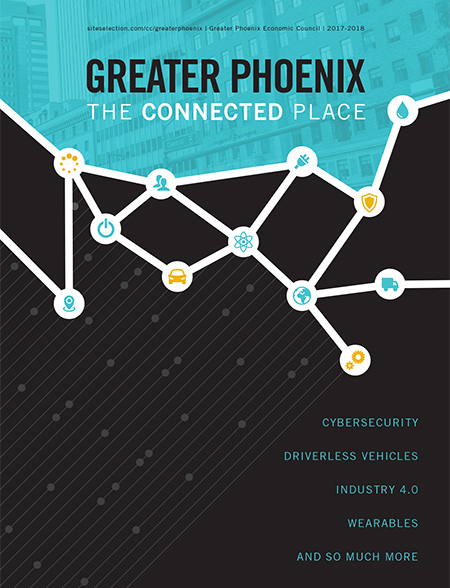 From wearables to autonomous vehicles, Greater Phoenix is "The Connected Place."