Glendale: Where businesses touch down
by Savannah King
The country's newest sports mecca is in the City of Glendale. Glendale is home to a plethora of professional sports organizations and events including football, hockey, Major League Baseball Spring Training, auto racing, NCAA Regionals, the annual PlayStation Fiesta Bowl, and the 2008, 2015 and 2023 Super Bowls.
Beyond the city's stadiums, sports complexes, golf courses and arenas, Glendale's business climate scores major points. We spoke with Glendale Mayor Jerry Weiers about his plans for the city's future and its winning business attraction playbook.
Why should companies expand or locate in your city?
MAYOR JERRY WEIERS: Glendale is the gateway to the West Valley where the workforce and population growth continues to boom. The city is affordable, accessible, and prime for companies looking to locate and expand. Glendale offers educational opportunities across industries with the state's only veterinary school and one of the largest pharmacy schools, Midwestern University. Other educational institutions in Glendale are Arizona State University, Arizona Christian University, Embry-Riddle Aeronautical University and Glendale Community College. In our city, businesses experience personalized customer service as our teams ensure a streamlined development process and a business support network once your doors are open. The value and quality of life opportunities in Glendale are like no other. Residents and employees alike can enjoy top eateries, concerts and sporting events while having access to transportation hubs and many other amenities.
What are your target industries and why?
MAYOR WEIERS: Glendale has five strategically identified target industries: healthcare and bioscience; aerospace, aviation and defense; advanced business services; technology and innovation; and manufacturing. These industries build upon our strong workforce and diverse economy, creating an environment that can withstand any challenges our city may face. For example, Arizona is top ranked in aerospace and aviation employment, as well as defense contracting, with many industry leaders planting their roots in the state.
Glendale is home to several of those major aerospace giants like Honeywell, Lockheed Martin and Magellan Aerospace, to name a few. Glendale is a prime location for new and expanding aerospace, aviation and defense companies. Luke Air Force Base, home to the 56th Fighter Wing, the largest fighter wing in the world and the only active-duty Air Force F-16 training wing that also operates as the sole pilot training center for the F-35A Lightning II, is located in Glendale. The partnership with the air base, along with an abundance of opportunity that surrounds the base and the adjacent municipal airport, makes Glendale a premier location for additional aerospace, aviation, and defense companies to locate and grow.
A similar concept applies to the remaining targeted industries. Glendale is home to more than 100 manufacturers employing thousands in the industry. The average wage for manufacturing jobs in Glendale continues to remain higher than the average wage in Arizona, which has attracted state-of-the-art manufacturing operations including most recently Red Bull's North American production facility and the West Coast manufacturing facility for Mark Anthony Brewing, the makers of White Claw and Mike's Hard Lemonade. Glendale is uniquely positioned with available land opportunities and a proven workforce to continue growing our advanced manufacturing industry.
Arizona is poised for continued growth and a strong economic performance in high tech industries. The technology and innovation industry is diverse in that it can serve as a cross over into other industries including aerospace, avionics, healthcare and manufacturing. Glendale is already home to some major advanced manufacturers and has recently attracted real estate investment from technology and innovation industry leaders. Within the West Valley, Glendale's existing assets, strategic partners, and available development opportunities make it the most viable leader for an emerging technology and innovation industry in the region.
The City of Glendale provides residents and visitors with vast choices when it comes to healthcare. Arizona's four major hospital systems all have operations in Glendale including Abrazo; Dignity Health; Honor Health and Banner Health, the state's largest private employer. Glendale continues to offer significant opportunity for growth in the healthcare sector with an additional focus on attracting bioscience research and development to take advantage of this growing asset to the community.
How would you describe your community's quality of life?
MAYOR WEIERS: It is unique. The city is rich in sports, entertainment, outdoor recreation, quality housing, educational options, health and fitness, arts and culture, and more. Year-round amenities provide residents and visitors with opportunities to enjoy major sporting events as the home of the Arizona Cardinals, Arizona Coyotes and the spring training home of the Los Angeles Dodgers and Chicago White Sox.
Our nationally accredited parks and recreation programs provide a great opportunity to unplug and enjoy the outdoors. Residents and visitors can consider a hike at Thunderbird Conservation Park; take in the picturesque rose garden at historic Sahuaro Ranch Park; or spend the day at Heroes Regional Park featuring X-Court skatepark, Archery Range, and NCAA branded basketball courts. Gila River Arena brings internationally recognized superstars like Elton John, Cher and Pink. There is something for every fan to enjoy like the Professional Bull Riders Glendale Invitational, Sesame Street Live!, Friday Night Smack Down, among others. And Glendale's light will shine worldwide once again as State Farm Stadium hosts its third Super Bowl in 2023.
How would you describe your local workforce?
MAYOR WEIERS: Nearly 65% of West Valley residents are working age. The West Valley is providing Greater Phoenix with over 35% of its workforce. Glendale residents are well-educated and hard-working. In our city, 54% of residents have a college degree or higher. Glendale has access to a workforce of 1.7 million within a 30-minute commute. Of those, nearly 200,000 are residents. Each year, 450 professionals separate from military service and many remain in the region, adding to the strong workforce. Collectively, 69% of the West Valley's workforce is commuting to other areas of the county. This means a significant portion of Glendale's diverse and skilled workforce is traveling too far, which is why our city is committed to attracting quality jobs that allow our workforce to live and work in their community.
Greater Phoenix Greater Together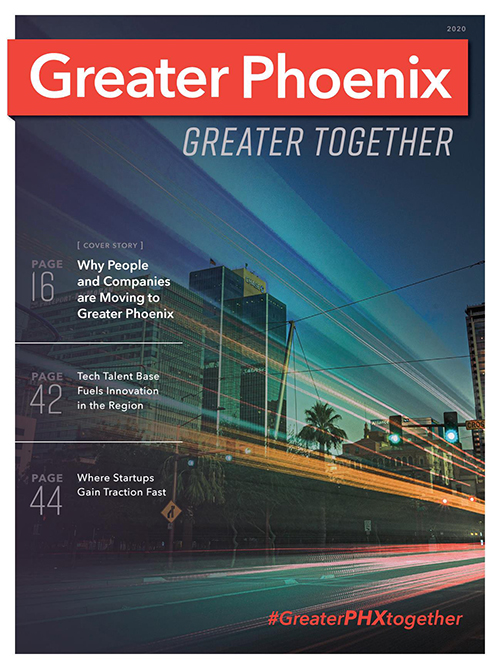 Greater Phoenix is built on collaboration. From technology hubs to manufacturing, business thrives in Greater Phoenix.