2017: Cybersecurity Venture Capital deals in AZ
Greater Phoenix has a young innovation ecosystem with many promising new companies. The region is also home to many tech companies headquartered outside the state that have come to take advantage of the affordability of the market and scale their enterprises here. Below are cybersecurity deals for 2017 that involve companies with a presence in the region.
SIMPLEWAN, PHOENIX 
SimpleWan is a developer of cloud-based network automation and cyber security systems. Their systems are designed to automate and monitor networks from anywhere. Their software offers HIPAA and PCI compliance and features live firewall and monitoring, content filtering, automatic application prioritization as well as plug and play functionality, enabling enterprises to protect their network operations against daily Internet threats and data- breaches.
The company completed a seed round of more than $550,000 on April 14th 2017. The company is currently valued at $4.4 million.
LIFELOCK, TEMPE
On February 16th, 2017, LifeLock was acquired by Symantec for $2.3 billion.
LifeLock was an identity-theft protection service provider. In addition, the company provided threat detection, identity alerts, and remediation software services for individual consumers, and a risk management service system for enterprises.
Symantec offers a variety of security, storage, and systems management services. By acquiring LifeLock, the company is hoping to boost its revenue from consumer business promoting long-term growth for the company.
INFOARMOR, SCOTTSDALE
Founded in 2007, InfoArmor is an experience provider of identity, financial and privacy protection technology platforms. Their product lines include Privacy Armor, an employee identity protection technology, and ViliganteATI, a threat intelligence platform involving big data analysis.
On January 31, 2017, InforArmor raised an undisclosed amount from Summit Partners that will go toward pursuing acquisition and expansion efforts.
NETSWITCH TECHNOLOGY MANAGEMENT, PHOENIX
NetSwitch Technology Management is a Bay Area cybersecurity service provider that focuses on preventing breaches and cyberattacks. They have an office in Phoenix and raised more than $500,000 on January 23, 2017.
Learn more about cybersecurity in Greater Phoenix.
Greater Phoenix: The Connected Place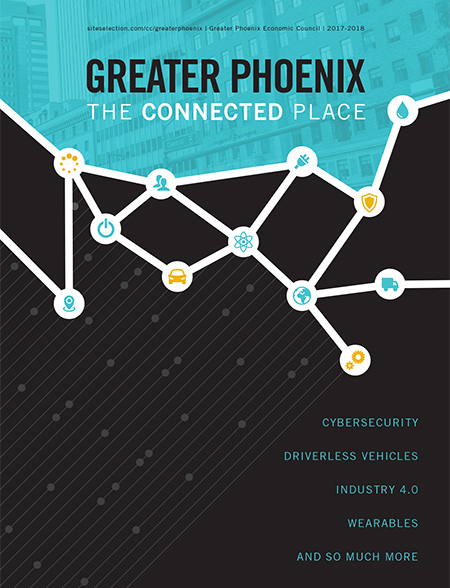 From wearables to autonomous vehicles, Greater Phoenix is "The Connected Place."