Framework for the future
by Adam Burns
If the road to ruin is paved with good intentions, then the road to prosperity must be intentionally paved, for starters.
Intentional infrastructure planning has been central to Greater Phoenix's success ever since the first horse-drawn streetcar line giddied up and down Washington Street in 1887. The link between infrastructure and commerce has been direct ever since: One year after the railroad showed up in 1887, the original Phoenix Chamber of Commerce was organized.
Fast forward, really fast, to December 2019, when the 22-mile South Mountain Freeway — aka Loop 202 — officially opened, connecting the West Valley to the East Valley with Arizona's first-ever public-private partnership highway project. The model allowed the Arizona Department of Transportation (ADOT) to open the $1.7 billion freeway three years earlier than if it had been built as a series of traditional projects, at a cost savings of more than $100 million.
"Arizona has solidified its reputation as a state that is open for opportunity," says Arizona Gov. Doug Ducey of the project traversing the southwest quadrant of the metro area. "As we welcome hundreds of new residents every day, we are making sure our infrastructure remains some of the best in America."
Thinking ahead
How fast has Greater Phoenix been growing? The new freeway, with 15 interchanges, is projected to carry about 117,000 vehicles per day within its first year and as many as 190,000 vehicles per day by 2035. But looking into the future is possible because leaders and citizens were looking to it in the past. Maricopa County voters approved the project in 1985, and again in 2004, as part of the Maricopa Association of Governments' Regional Transportation Plan.
It's just one of many examples across all modes of infrastructure where Greater Phoenix has been looking ahead since way back when.
That includes mixed-use development. In January 2020, Plaza Companies, developers of SkySong Center, the ASU Scottsdale Innovation Center, filed for design approval with the City of Scottsdale for SkySong 6, which will be the largest building in the 42-acre development. With construction scheduled to begin in May 2020, the new Class A office building includes approximately 340,000 sq. ft. of leasable space in six stories, with an adjacent multistory parking structure. When it's completed, the overall developed space at SkySong will exceed 1 million sq. ft.
Sethuraman Panchanathan, executive vice president, and chief research and innovation officer of the office of Knowledge Enterprise Development at Arizona State University, says the project "will provide an ideal environment for innovation and technology, and will create additional synergy and energy for the companies that locate at SkySong."
With more than 119,950 students studying across four metro Phoenix campuses, in Lake Havasu and online, ASU is one of the largest public universities in the nation, with the majority of its students attending its campus in Tempe, less than three miles from SkySong. SkySong has launched 144 startups, created more than 1,100 local jobs and generated over $108 million in state revenue.
New record at Sky Harbor
Less than 6 miles from SkySong is Phoenix Sky Harbor International Airport (PHX), which is also reaping the benefits of thinking ahead.
Nearly 46.3 million travelers passed through Phoenix Sky Harbor in 2019, surpassing the previous record set in 2018 when just under 45 million passengers were served. Moreover, the airport had 70% origin and destination traffic, meaning that the majority of travelers started or ended their journeys in Phoenix rather than connecting through the airport in route to somewhere else."
The record-breaking number of passengers Sky Harbor saw in 2019 is another data point highlighting the importance of investing in our airport," says Phoenix Mayor Kate Gallego. "Phoenix Sky Harbor International Airport is the No. 1 economic engine in the state — yet receives no tax dollars and operates solely with the revenue generated by businesses operating there. We must continue to deliver not only world-class customer service, but ensure upgraded facilities to travelers and those that want to do business with our airport."
Among the projects underway at Sky Harbor are a 2.5-mile extension of the PHX Sky Train from the terminals to the Rental Car Center, which will take more than 80 buses off the roadways. Other projects include the recent completion of the Terminal 3 Modernization Program. In January 2020, Mayor Gallego, Cindy McCain and others dedicated the $590 million John S. McCain III Terminal 3 at the newly renovated North Concourse. Construction also continues at Terminal 4, where Southwest Airlines' eight-gate concourse will open in 2022.
New flights are on the schedule too. In 2019, American Airlines launched their first-ever nonstop service from Phoenix to London Heathrow Airport as well as new service to Chihuahua, Mexico; Condor Airlines extended their seasonal service to Frankfurt, Germany. In 2020, Eurowings also will begin nonstop seasonal flights to Frankfurt as well. PHX currently offers nonstop service to more than 100 domestic destinations and 23 international destinations.
Light rail, heavy impact
Light rail launched in 2008 with the original line connecting Central Phoenix, Downtown Phoenix, Tempe and Mesa. The light rail has continued to expand further north in Phoenix and east into Mesa. In August 2019, voters in Phoenix defeated an initiative that would have ended all light rail construction, prohibited future rail investment and returned billions in federal dollars previously pledged to expand the regional transit system. The vote marks the fourth time since 2000 that Phoenix voters have publicly supported light rail through the election process.
The Valley Metro Regional Public Transportation Authority (Valley Metro) says that the vote means the rail authority will continue to build out the regional rail system, including the South Central Extension/Downtown Hub; Northwest Extension Phase II; and Capitol/I-10 West Extension. Light rail supports 41,000 riders each day along a 28-mile system. According to Valley Metro, the light rail supports job growth and has generated about 12.2 billion, which includes the development of the Tempe Streetcar.
Construction began in October 2019 on underground utility upgrades associated with the South Central Extension/Downtown Hub. For every linear foot of track way installed, six linear feet of wet utilities, including water, sewer, or storm drains, will be removed, relocated or upgraded. In addition, the project's new infrastructure will include dedicated bicycle lanes, 21 new bus pullouts, re-built sidewalks, re-paved streets and an estimated 160 new trees. Construction will be complete by 2024.
Plans and results
Where else has past visualization led to present prosperity? It was way back in 1966, when the College of Architecture at Arizona State University designed plans to control flooding and create recreation and economic development opportunities along the Rio Salado. In 1987, a tax increase was proposed to fund the project. It failed, but there was support for the project in Tempe, leading the city to develop a plan to create Tempe Town Lake.
Construction began in 1997, the lake was opened in 1999, and since then it's had a nearly $2 billion economic impact. More than 40,000 people work in the area surrounding the lake. To keep the momentum going, in 2018, the city created the Rio Salado and Beach Park Master Plan to serve as a comprehensive planning document for the area over the next 20 to 30 years.
That kind of attention to quality of life has netted Tempe a number of honors. Most recently in May 2019, when the League of American Bicyclists recognized Tempe as one of only 34 Gold-Level Bicycle Friendly Communities nationwide. "Biking is important in our community, we have the highest percentage of bicycle commuters in the state," says Tempe Mayor Mark Mitchell. "Continuing to invest in our bicycling infrastructure will help us achieve a healthy, sustainable and connected community."
In the urban core of Phoenix, ASU opened a campus and continues to bring new programs to downtown. Phoenix has invested $25 million with ASU to construct buildings to bring the Sandra Day O'Connor College of Law and the Thunderbird School of Global Management to the area. The University of Arizona and Northern Arizona University also have a presence in downtown Phoenix with programs at the Phoenix Biomedical Campus, including the University of Arizona's medical school. Meanwhile, the Phoenix Warehouse District has welcomed the repurposing of vacant, historical buildings through projects that have attracted tech companies, marketing and architecture firms, and other creative industries.
In December 2019, ASU announced that Mikhail Chester, associate professor of the school of sustainable engineering and the built environment for ASU's Ira A. Fulton Schools of Engineering, will lead an extensive five-year endeavor, funded by a $3.5 million grant from the National Science Foundation's Growing Convergence Research program, to create platforms for the development of social, ecological and technological infrastructure systems for urban resilience. Atlanta, New York, Phoenix and San Juan, Puerto Rico, are the test cities selected for the project. The goal is to "identify cutting-edge transition strategies" for cities to follow in strengthening urban infrastructure systems against extreme weather events they will likely face throughout the 21st century.
In other words, the next era of infrastructure will bring its own set of visionaries, and Greater Phoenix will lead the way there too.
Greater Phoenix Greater Together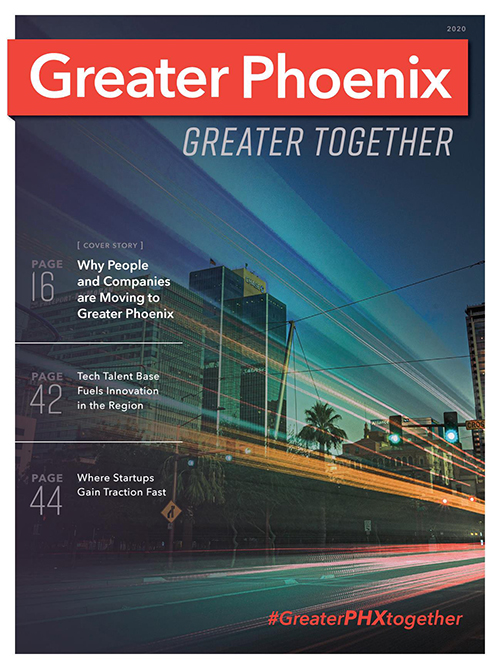 Greater Phoenix is built on collaboration. From technology hubs to manufacturing, business thrives in Greater Phoenix.