Higher education in Greater Phoenix is looking toward blockchain, cybersecurity to fill in-demand tech jobs
By Savannah King
Greater Phoenix has a wealth of resources at its institutions of higher education.
More than 40 higher education institutions are located across the region including Arizona State University (ASU), University of Phoenix (UOPX), Maricopa Community Colleges (MCCCD), Grand Canyon University (GCU), University of Arizona (UArizona) and more.
As one of the largest public universities in the U.S. with more than 119,000 students enrolled, ASU is one of the region's crown jewels of higher education.
ASU has been ranked the No. 1 most innovative university in the country five years in a row by U.S. News & World Report. The university has also been ranked fifth by employers for job recruiting by the Wall Street Journal. ASU is one of the largest research-heavy institutions in the country and annually earmarks more than $359.7 million in research and development.
Prime advantage
In March 2019, ASU launched the ASU Smart City Cloud Innovation Center (CIC). The CIC, powered by Amazon Web Services (AWS), is at ASU's SkySong location in Scottsdale and is part of a long-term partnership between ASU and AWS to improve digital experiences for smart city designers, expand technology alternatives to minimize costs, spur economic and workforce development, and facilitate sharing public sector solutions within the region.
"What ASU has done here is not only build a process and a means of communicating, but they've also raised the bar, insisted on the highest standards, and said we will invent and simplify here," says Ann Merrihew, director of U.S. Education for AWS.
"The thing that I love about what ASU is doing is that it starts from inside. It starts with how ASU cares about its students. There's a lack of feeling that it's got to be exclusive — everyone matters," Merrihew said. "And then saying, it's not just us on campus. We live in a city, we live in a county, we are part of a global universe, and what we learn we're going to share.
"That's the point of the CIC," Merrihew continued. "This is what it is to be a global leader."
Full-time staff at the CIC will work alongside local planners to solve real-world problems the region faces as it grows.
"Real-world challenges from various parts of the public sector and from within the university will be submitted to the CIC," says Ben Butler, global lead of the AWS Cloud Innovation Centers – Worldwide Public Sector. "We'll combine public sector knowledge of the community and its challenges with the expertise of ASU's faculty, staff, and students and use AWS technologies to solve those challenges. We'll do it using open-source software. We'll share the solutions and prototypes we create with other communities facing the same challenges."
Maricopa County Community College District (MCCCD) also recently collaborated with AWS and its AWS Educate program to create a certified program that will enable students to pursue tech careers in the cloud computing industry. Over the next decade, local demand for cloud computing talent will increase across the region. Greater Phoenix is expecting to add over 25,000 IT jobs.
"Offering programs like cloud computing and blockchain technology reinforce key initiatives to align education programs around the skills needed in Arizona's economy," says Dr. Maria Harper-Marinick former MCCCD chancellor. "Our collaboration with Amazon Web Services is an exciting step forward to closing the employability gap, and preparing the community for the workforce of today and tomorrow."
Every year, the system educates and provides training to more than 200,000 people. With 10 accredited college campuses across the region, students can conveniently access a diverse range of programs and learning environments.
The collaboration will give MCCCD students access to a 15-credit certificate program that focuses on in-demand cloud computing and blockchain skills.
Public and private connections
Grand Canyon University is a private, Christian university with over 200 academic programs and more than 79,000 students enrolled.
The campus has grown significantly over the last decade. In 2016, GCU finished building a 173,447-square-foot, state-of-the-art engineering building for students in STEM majors.
In 2017, the university partnered with The Arizona Cyber Warfare Range (AZCWR) and the Arizona Cyber Threat Response Alliance (ACTRA) to open a cybersecurity range on the school's campus. The 4,500-square-foot facility is stocked with laptops, servers, and other equipment and is open to the public for free. GCU offers a Bachelor of Science degree in information technology with an emphasis in cybersecurity, as well as a master's degree.
"It's all part of our commitment to creating an exceptional experience in science, technology, engineering, and math (STEM) education and becoming a destination for cybersecurity training," says Brian Mueller, president of GCU. "Having a facility like this where students in our cybersecurity programs can apply their skills outside of the classroom is a tremendous opportunity."
Greater Phoenix Greater Together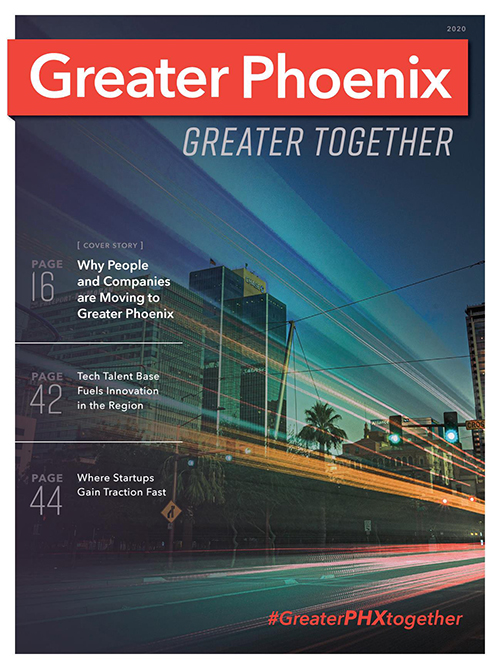 Greater Phoenix is built on collaboration. From technology hubs to manufacturing, business thrives in Greater Phoenix.