In this sandbox, nobody's playing around
by Adam Burns
Fintech, welcome to Arizona and welcome to Greater Phoenix.
In 2018, Arizona became the first in the nation to pass legislation enabling a regulatory sandbox. The Regulatory Sandbox Program (RSP) allows financial services companies to test innovative products and technology in market for up to 24 months without obtaining a license or other authorizations that might otherwise be required. By statute, the program doesn't expire until July 1, 2028, and it was improved in 2019 with legislation allowing more kinds of businesses to participate.
In early 2019, Governor Doug Ducey signed legislation creating another regulatory sandbox for property technology companies in Arizona. By reducing costly barriers to entry, the bill promotes the development of disruptive technologies affecting the transfer and management of commercial and residential property.
"PropTech is changing the way we rent, sell, buy, develop and manage property," said Governor Ducey. "With this forward-thinking legislation, PropTech companies will have a place to develop and test their products — while benefiting and protecting consumers. With this bill, Arizona continues to send the message loud and clear that our state is the best place to develop cutting-edge technologies."
The state is one of about eight states that are members of the American Consumer Financial Innovation Network (ACFIN), which has coalesced to facilitate consumer-driven innovation in markets for financial products and services through increased coordination among federal and state officials. Jackson Mueller, the associate director of Center for Financial Markets at the Milken Institute, says such cross-border regulatory alliances offer intriguing possibilities. The prime example is the Global Financial Innovation Network first started by authorities in the UK.
"In addition to information sharing, they've also tried to put together a cross-border pilot initiative where firms can test their product or service with a number of regulatory bodies," says Mueller. "I'm wondering if in the future some of these states in ACFIN may decide they'd like to develop cross-border sandbox initiatives. For firms looking to launch, given fintech's borderless nature, it would be interesting to see whether that testing regime, and what comes out of it, also satisfied regulators in other states."
Sharp turn upward
Both sandbox statutes just add rocket fuel to Greater Phoenix's surging finance and insurance cluster. Among the Phoenician fintech players is secure payment transfer technology Zelle, created by Early Warning Services, LLC, which employs about 1,000 throughout the region. Emailage, based in the Greater Phoenix municipality of Chandler, is a global leader in fraud prevention and risk management. In 2018, the company was responsible for analyzing 164 billion global transaction data points — a 91% increase over the previous year — preventing an estimated $2.7 billion of fraud in over 150 countries.
Emailage recently established an office in Dublin, Ireland, among other locations, but its beating heart is firmly headquartered in Chandler, where the company was founded in 2012 by Rei Carvalho, a finalist for EY's Entrepreneur of the Year 2019 award for the Mountain Desert region. Emailage in 2018 doubled its HQ to 30,000 sq. ft. and aimed to add 40 more people to the payroll. The fintTech firm's growth trajectory has been so attractive that LexisNexis Risk Solutions in February 2020 announced it had signed an agreement to acquire it.
Greater Phoenix — and the entire state of Arizona — are increasing their visibility in the fintech arena. Based in Ohio, Root Insurance, valued at more than $3.6 billion, is the nation's first licensed insurance carrier powered entirely by mobile, basing its rates on how you drive. Now in 29 states, Root measured more than 4.5 billion miles in 2019. When it looked at state driving habits at the end of 2019, it found, among other driving behaviors that "Arizona saw more improvement in sharp turn events than any other state."
Root itself is turning for Phoenix, investing in a $1 million, 370 phase-1-jobs office. It's part of national growth on the way to being available in all 50 states that's caused the company to expand its workforce by over 200%, bringing the total to more than 800.
WeTravel, a FinTech startup for travel companies, is also expanding from its San Francisco and Amsterdam home bases to Scottsdale, and will create over 100 new jobs at an operations and sales location over the next three years. The company raised a $2 million seed round in 2018, and more than 1,200 travel businesses use the online payment platform that helps small travel companies transition from paper-based and traditional finances, communication and marketing.
The company considered multiple markets including Salt Lake City, Atlanta and Denver, but ultimately selected Scottsdale due to the region's competitive costs to do business, the availability of talent, and access to local resources. Home to the Arizona State University SkySong Innovation Center, Scottsdale boasts nearly 18,000 businesses supplying over 150,000 jobs.
Greater Phoenix Greater Together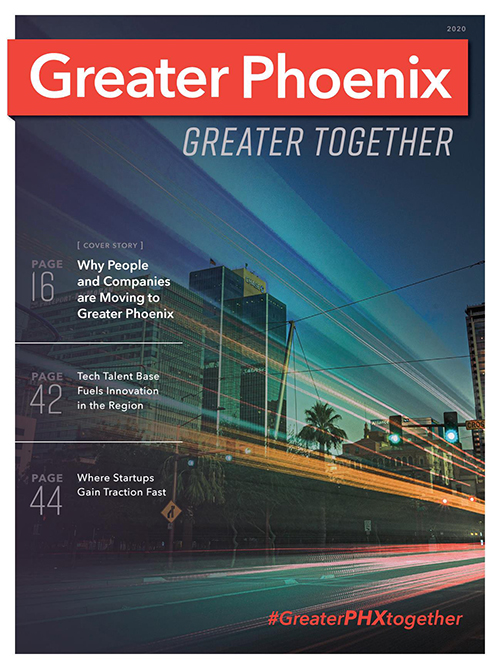 Greater Phoenix is built on collaboration. From technology hubs to manufacturing, business thrives in Greater Phoenix.