Phoenix Accenture team helps Freeport-McMoRan digitally connect mines
Originally seen in the Phoenix Business Journal on October 3, 2017. Photo via Accenture.
A Phoenix team at Accenture is helping Freeport-McMoRan Inc. digitally connect its mining operations to be more effective, efficient and safer.
The local Accenture team specially built its Connected Mine solution for Freeport, which has been used for its Morenci open-pit copper mine in southeast Arizona near the New Mexico border.
Phoenix-based mining conglomerate Freeport (NYSE: FCX) is the largest producer of molybdenum, and the second largest copper producer, in the world.
The companies recently signed a five-year extension to expand the digital platform to three other mines in North America and new installations at its Cerro Verde, Peru mine, said Amy Dale, Accenture's Phoenix office managing director.
"Using the Accenture platform, this allows us to collect the data that Freeport is generating from sensors and mine operations," Dale said. "We're leveraging Microsoft Azure to do calculations and algorithms into alerts to supervisors in the field."
For example, if a crusher stops operating at a mine, the mine operator is alerted right away so the issue can be fixed and the operation can continue before it becomes a problem. Supervisors receive real-time alerts on their ruggedized tablets and mobile phones.
"The real-time mine data allows Freeport to reduce machine downturn, which in turn lowers their inventory cost and increases their ability to track assets and how they're being utilized," Dale said. "We see this as a wonderful safety capability."
Accenture's Connected Mine puts "relevant information in the field to let supervisors be more effective in achieving desired results," said Cory Stevens, vice president of operational improvement for Freeport-McMoRan.
"Additionally, this platform acts as a conduit to effectively operationalize critical findings from our data analytics programs," Stevens said in a statement. "Connected Mine assists us in advancing our improvement programs to realize value in terms of improved safety, cost reduction and increased production."
Connected Mine uses the Accenture Cloud Platform to add computing power and launch new services fast, as needed.
Accenture (NYSE: ACN), which has 50,000 employees in the U.S. and 411,000 total employees in more than 120 countries, offers a similar platform for other mining companies across the globe.
"This is an opportunity for mining companies to leverage our digital tools for safety and to improve work," Dale said. "Mining companies buy our connected platforms-as-a-service into their operations."
Accenture worked with Seattle-based Avanade Inc., a digital and cloud services provider owned by Accenture, to build its Connected Mine solution. The two are continuing to build new features into the software, including dynamic mine planning, drill visualization and blast optimization.
Connected Mine also offers the ability to use closed service TV and video analytics to further assess safety issues for mine operators. For example, the video will alert operators if something is in the path of a machine or a worker is not wearing compliant clothes, Dale said.
The Phoenix Accenture office at 32nd Street and Camelback Road employs 330 local employees.
Greater Phoenix: The Connected Place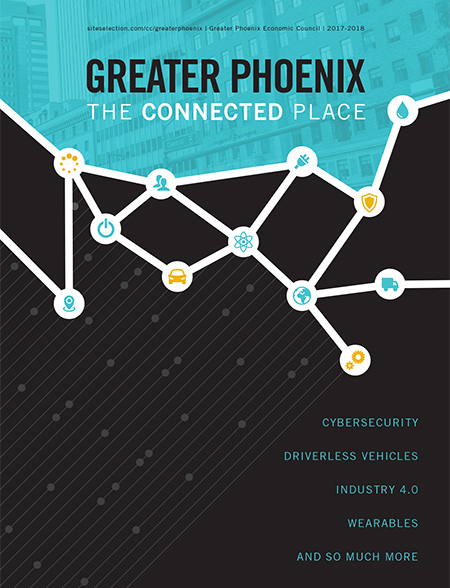 From wearables to autonomous vehicles, Greater Phoenix is "The Connected Place."