Working smarter: The Connective brings many entities together to solve regional challenges
by Ron Starner
An unprecedented alliance of communities has united to form a consortium aimed at solving Greater Phoenix's most pressing challenges — from population growth and traffic congestion, to water conservation and sustainable energy.
The alliance is comprised of the Partnership for Economic Innovation, Greater Phoenix Economic Council, Maricopa Association of Governments, Arizona State University and the Institute for Digital Progress. Its official name? The Connective, Greater Phoenix's Smart Region Consortium.
Founded with support from Cox Business, Dell Inc., Maricopa County, Salt River Project and Sprint, The Connective is aligning with 22 cities and towns, and other industry partners. Together, they plan to construct the nation's largest and most effective smart region by developing and deploying technology solutions grounded in connectivity, mobility, equity, and sustainability.
"Two years ago, we announced the intention and vision for a smart region consortium in Greater Phoenix," said Chris Camacho, president and CEO of GPEC. "Now a reality, this consortium will elevate the region's competitiveness and enhance the reputation of Greater Phoenix as a preeminent market where companies can test, develop and deploy technology at scale while providing our residents with a technologically advanced lifestyle opportunity."
The overarching goal is to solve real-world problems that affect the nearly 5 million residents of the metropolitan area. They can be as simple as providing mobile parking meters in downtown Phoenix to let drivers pay with a credit card instead of coins, to as complex as ensuring ample water for everyone in the Valley for decades.
"Many smart city efforts around the world have been unsuccessful because they lacked community engagement," says Diana Bowman, associate dean for international engagement at the Sandra Day O'Connor College of Law and a professor at the School for the Future of Innovation at ASU. "The Connective is designed to correct that model. We will begin by asking, what do the citizens of the region want? How do we address their needs? How do we improve their quality of life? And how do we work with the members of this public-private partnership to meet those challenges?"
What 85,000 students can accomplish
Creating the formal structure for The Connective was the first step that provided a foundation for us to go out and get commitments says Bowman. "The founding partners were announced in November. We now have money in the bank, and we have a critical mass of cities and Maricopa County."
One of the principal goals of 2020 will be to identify key projects. "We will leverage the faculty and students at ASU," she says. "That goes back to our charter. A key tenet of the university is to engage in research and development that serves the community. We have the privilege of drawing upon 3,500 faculty members and 85,000 students."
Annually ranked as the No. 1 university for innovation in the country, ASU has a proven track record of producing disruptive technologies that change the world.
So does Cox Business, one of the private industry partners in The Connective. Ed Aaronson, vice president of Cox Business, says, "The Greater Phoenix region has been gaining tremendous momentum in recent years in terms of being a very desirable location for businesses, specifically technology businesses and startups, to grow and flourish. The work of the Smart Region Consortium will further demonstrate this region's commitment to be the leading region in the country for smart technology and smart region applications. This group will create more opportunity for technology businesses in our region and a greater demand, with the associated ecosystem, for a highly skilled workforce."
Cox Business has been laying the groundwork for a smart region for a long time. "Greater Phoenix's broadband network is one of the fastest in the nation," says Aaronson. "We are 99% completely gigabit ready to all our households and provide necessary coverage to our commercial customers. This bedrock is critical when working on projects like the Cox Connected Environments Collaboratory at ASU and their network."
Cox is already working on building Greater Phoenix's connected future, notes Aaronson. "Cox Business is focused on development which includes emerging network infrastructure, autonomous futures, urban redesign, augmented reality and workforce of the future, health and wellness, plus public safety and security," he adds. "These innovative smart applications present new ways of thinking to solve problems in our growing region."
Seeking smart, sustainable solutions
Bowman adds that sustainability is another tenet of The Connective. "We must do something that is smart and sustainable. We must test different solutions," she says. "If we can show proof of concept for greater energy efficiency and water efficiency in our region, these solutions can be applied around the country. Our goal is to create the best smart region in America here in Arizona, but also to share lessons, both good and bad, with others outside the region."
Bowman notes that Greater Phoenix intends to become a global leader in developing and deploying smart mobility systems that solve the most pressing transportation challenges in the world's most densely populated cities. "One of our biggest priorities has been transportation," she says. "We have an edge in autonomous vehicles. We are one of the leading test beds in the world. AVs will help us address many challenges we face as a region."
She stresses that "The Connective is a true bottom-up initiative. This is about the agenda of the citizens of the region. It is about what they want and need. We encourage everyone to actively engage with us. Community engagement and transparency are two of our tenets. This is going to be a busy and fun year."
Scottsdale provides a model
Speaking of fun, the City of Scottsdale has been having plenty of it during its transition to Smart City status. A leader in implementing data-driven decision-making, Scottsdale was honored in 2019 with What Works Cities Silver Certification by Bloomberg Philanthropies. The prized certification rates how well cities are managed by measuring the extent to which city leaders incorporate data and evidence into their decision-making.
Scottsdale was recognized for adopting a business mindset to run a well-managed government, embracing transparency, embedding data in decision-making, and other reforms. Scottsdale was one of seven cities to achieve silver status in April 2019.
Specifically, Scottsdale is using predictive analytics to identify future water needs more accurately, says Brent Stockwell, assistant city manager for the City of Scottsdale.
"We are also recognizing the effects of altering traffic signals after accidents to minimize accidents in the future," he says. "These are examples of data-informed decision-making. New technologies are giving us new information that we have never had before."
The goal is to implement such advanced information-gathering, as well as information-sharing, across the region as part of The Connective.
Greater Phoenix Greater Together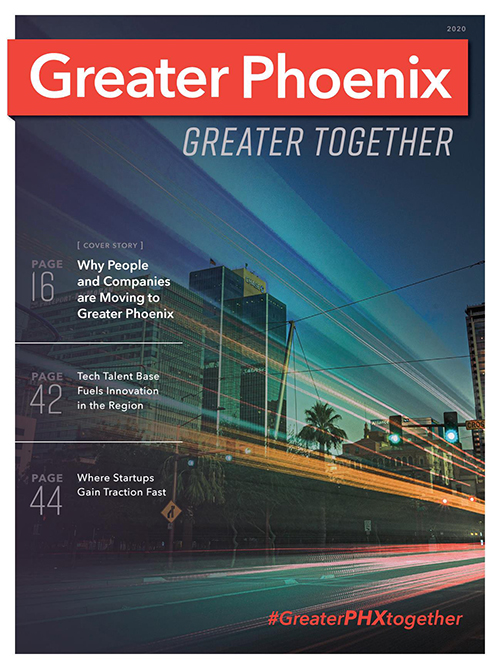 Greater Phoenix is built on collaboration. From technology hubs to manufacturing, business thrives in Greater Phoenix.