71 Years young: Valley's semiconductor sector shows no signs of slowing in its 8th decade
by Ron Starner
Just how important is the semiconductor industry to Greater Phoenix? Consider this: one of the largest semiconductor manufacturing plant investments in history is taking place right now in Chandler.
The $7 billion investment into Intel's Fab 42 facility in Chandler is ongoing and upon completion will fabricate the most advanced computer chips in the world.The expansion is so mammoth that, upon completion and opening, it will generate up to 3,000 jobs — a number that will be added to the 12,000-plus employees who already work at Intel in Chandler today.
Work on multiple fronts is taking place on-site to get the project ready. Several major infrastructure projects are underway, including a $5.4 million road expansion to accommodate the expected increase in traffic to and from the Intel campus. Construction and outfitting of Fab 42 continues, and base construction and tool installation are expected to be completed sometime this year.
Intel will manufacture chips with 10-nanometer technology at Fab 42. One nanometer is approximately one-billionth of a meter. The chips will power computers, data centers, sensors and other electronic devices.
The expansion is part of Intel's path to once again become and remain the world's No. 1 semiconductor supplier. According to data supplied by market research firm IC Insights, Intel was poised to overtake Samsung as the global leader late last year. Other leading suppliers of microelectronic chips in the Greater Phoenix include ON Semiconductor, NXP Semiconductors, Microchip Technology and Retronix Semiconductor.
Motorola paved the way
The semiconductor industry has called Greater Phoenix home since 1949 when Motorola first opened a facility in the region. Since then, it has welcomed a host of manufacturers, suppliers and contractors. Today, the vibrant electronics sector in the region includes such stalwarts as Broadcom Inc., Cirrus Logic, Infineon Technologies, Qualcomm and SUMCO Corporation, among others.
Together, these firms employ roughly 18,865 highly skilled workers throughout the region, making the Phoenix metropolitan statistical area the third largest metro area for electronics employment in the U.S.
When asked why so many electronics firms choose to make Greater Phoenix their home, one response that is often given is access to suppliers. Overall, 70% of companies interviewed said they bought mostly from other companies in the U.S., and 63% of those firms said they purchased mainly from other Arizona-based companies.
"The Greater Phoenix region is a great place to do business and a great place to live," says Elizabeth Shipley, public affairs director of Arizona/Latin America region for Intel. "We opened our first Chandler manufacturing facility in 1980. There were many factors that contributed to that decision, from the proximity to our California headquarters, to the presence of a skilled workforce, and the availability of natural resources. Since then, Intel has expanded its operations and we're producing some of the world's most advanced technology right here in the East Valley. Today, we employ more than 12,000 of the best and brightest Arizonans, spend more than $4 billion each year with Arizona-based organizations, and have a statewide economic impact of $8.3 billion."
'An ecosystem of innovation'
"In the four decades we've been developing and manufacturing technology here, Intel has encouraged an ecosystem of innovation that is helping to make our community a vibrant place to live and work," says Shipley. "The City of Chandler, Maricopa County, and the State of Arizona have been thoughtful partners, and the ecosystem of innovation here in the East Valley, along with access to quality educational resources, has contributed to the region's success. Intel's commitment to the community and to sustainability has made it possible for us to be successful in the Greater Phoenix region for so long."
Since 1996, Intel has invested more than $23 billion to build high-tech manufacturing capacity in Arizona. Intel has maintained a presence in Arizona for 40 years, and the company's operations there are some of Intel's most diverse. Intel's Internet of Things organization has a significant presence in Arizona, and the firm's Chandler facility hosts Intel's Assembly Test Technology Development group. Other functions there include research and development, chip design, marketing, IT, finance, HR, legal, supply chain, and logistics.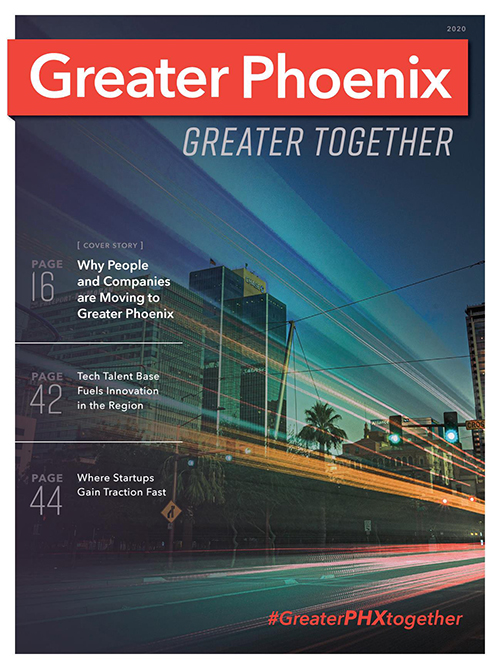 Greater Phoenix is built on collaboration. From technology hubs to manufacturing, business thrives in Greater Phoenix.