From the outside: How Greater Phoenix is using wearables to elevate health and safety
Published: 07/01/2020

by Ron Starner
They say it's not good to wear your heart on your sleeve, but did you know that you can now learn a lot more about your heart by what you wear on your sleeve?
Welcome to the world of wearable technology, or wearables, for short. What you used to find out from your doctor's office is now readily available on a multitude of self-scanning devices.
Just how big is the market for wearables? A 2020 report from IDC put the number of wearables sold in 2019 at 336.5 million.
The epicenter of this industry, fittingly enough, is a place known for getting your heart rate up and your body moving outdoors — Greater Phoenix.
"Today, there are more than 133,600 innovators and businesses in the Valley's wearable technology workforce," says Christine Mackay, director of community and economic development at the City of Phoenix, in a recent AZ Big Media article. "This includes electronic, biomechanical and mechanical engineers, electrical and electronic technicians and software developers, plus supporting occupations and vendors."
Joe Hitt, co-founder and CEO of GoX Labs, is one of these innovators. A former West Point professor who built humanoid robots at DARPA, Hitt leads one of several firms operating out of the new WearTech Applied Research Center in the City of Phoenix. Hitt and his team of researchers are developing a human exoskeleton that can improve worker safety and performance.
"We believe that wearable robots will become something that will transform human capabilities," says Hitt. "Toyota, Ford, Caterpillar, Boeing and others are doing this to improve productivity and reduce injuries in the workforce."
Hitt says the ubiquity of wearables is a harbinger. "About 100 million people wear smartwatches," he says. "That's expected to double to 200 million in the next three years. We'll be able to use the advanced sensors on those devices to predict disease and prevent injuries."
A new hub for HealthTech
Greater Phoenix is a WearTech hub, says Hitt, "because Arizona State University has very strong research programs in wearables and robots, and because we have great hospitals like the Mayo Clinic. Plus, we're a fast-growing county and city. This is the fastest-growing metro area in the country. The vibrancy and workforce are here, and culturally, this is a place where health is very important."
Other factors promote the growth of WearTech in Greater Phoenix, he adds. "The Valley of the Sun is a preferred destination for an aging population, and this is a good junction between California, Colorado and Texas, where a lot of this work is being done."
ASU and the City of Phoenix saw an opportunity to position the region as a hub for wearable technology development. "WearTech was jointly put together by the city and ASU, and that is where the trade association and GoX labs are located today."
They're not alone. Joining them at the 5,000-sq.-ft. WearTech Center at Park Central Mall in midtown Phoenix are Hoolest Performance Technologies, a company focusing on electrical nerve stimulator earbuds to calm anxiety; Flexbio and TrueMobile Health, a firm working on an absorbent patch to detect the presence of alcohol in sweat; and LevelUp, a company producing a baseball hat with an EEG headband that uses neuro-feedback to improve performance.
The WearTech Center is strategically located close to key health technology assets in the area, including the Phoenix Biomedical Campus, Barrow Neurological Center and other prominent healthcare providers.
Winning national competitions
"Many different factors helped in the assemblage of the WearTech Center," says Hitt. "We're trying to attract other companies. For example, we were a finalist for a major U.S. Army wearables competition. They selected five companies from across the country, and three were from Phoenix. We have a lot of companies working in that space. They are small companies that are unknown to many people around the country."
WearTech was set up last year with a $750,000 grant from the U.S. Department of Commerce. "Our goal with this institute is that we become proud Arizonans of an Arizona-based intellectual property generation," says Chris Camacho, president and CEO of the Greater Phoenix Economic Council. "It's less about importing other states' and other people's technology and more about building our own."
Greater Phoenix Greater Together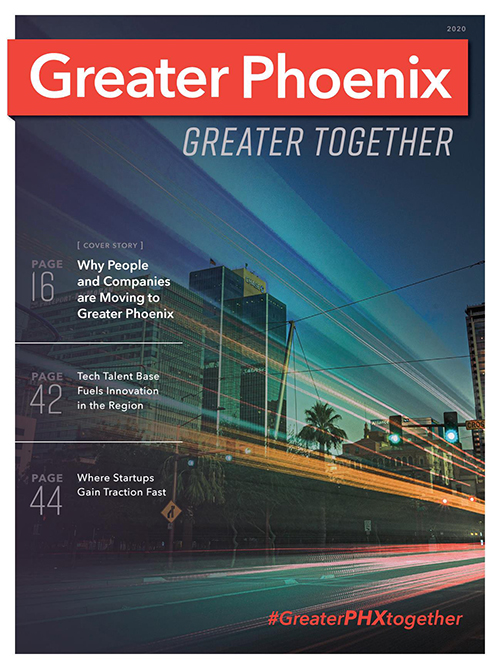 Greater Phoenix is built on collaboration. From technology hubs to manufacturing, business thrives in Greater Phoenix.