Wearables: Research and development
Research and development efforts supporting the wearables sector in Greater Phoenix are growing and producing cutting-edge technology. Here is a sample of some of these innovators:
iProjects
Is a collaborative effort between the region's universities and industries. The iProjects program connects teams of students to an outside organization to solve real-world business challenges. Students gain valuable experience and industry partners retain all results and intellectual property created as part of the iProjects program. Since  2010 iProjects have created $3 million in IP value for partner organizations.
Biodesign Institute 
ASU's Biodesign Institute encompasses 350,000 square-feet of building space to suit the needs of researcher in biomedicine, health outcomes, sustainability, and security. One third of ASU research facilities are devoted to biological and biomedical sciences, and more than one quarter of the STEM degrees the school awards each year are in the biological sciences. At the Biodesign Institute there are more than 15 research centers including a Bioelectronics and Biosensor center. The center is committed to partnering with industry leaders to support new technology development. One such partnership is the collaboration between researcher's at Biodesign and the Mayo Clinic to develop new cancer biomarkers and diagnostics tools.
Flex Electronics Center
ASU's Flexible Electronics and Display Center (FEDC) is a leader in advancing flexible displays, flexible sensors and flexible electronics systems. FEDC experts collaborate with government, academia and industry to provide comprehensive flexible electronics capabilities that bridge the high-risk, resource-intensive gap between innovation and product development.
Additive Manufacturing Center
ASU's additive manufacturing center at the Poly campus is the largest center of its type in the Southwest. The center is home to more than $2 million worth of state-of-the-art additive manufacturing equipment.
Phoenix Biomedical Campus
The City of Phoenix has been actively cultivating a biomedical industry in the region. Efforts to grow and attract innovative medical technology companies have increased the cluster density from 67 firms in 2012 to 273 firms in 2017. Phoenix's biomedical campus is home to leading research institutes such as TGen and the International Genomics Consortium.
Wearable Robotics Association
The Wearable Robotics Association is headquartered in Greater Phoenix. This association brings industry leaders from across the global together for a yearly conference, hosted in the region. The Wearable Robotics Association is committed to increasing global links within the industry, developing the startup community, advocating for wearable priorities, developing global standards, and educating.
Medical Simulation Centers
Within Phoenix there are several medical simulation centers, used to train staff on new equipment and to test new equipment, typically already FDA-approved equipment, for people and process compatibility with existing hospital procedures.
Maricopa Integrated Health System (MIHS) Simulation Center
Banner Simulation System
ASU – Educational Simulation Program
Banner Simulation Education and Education Training Center
UoA – Arizona Center for Simulation and Experiential Learning (ACSEL)
UoA – Arizona Simulation Technology and Education Center (ASTEC)

Clinical Trials
Greater Phoenix is home to a diverse population, making it an ideal location for clinical trials. This diversity has helped Arizona become a top 5 state for clinical trails with over $233 million invested in well over a thousand active clinical trials.
Greater Phoenix: The Connected Place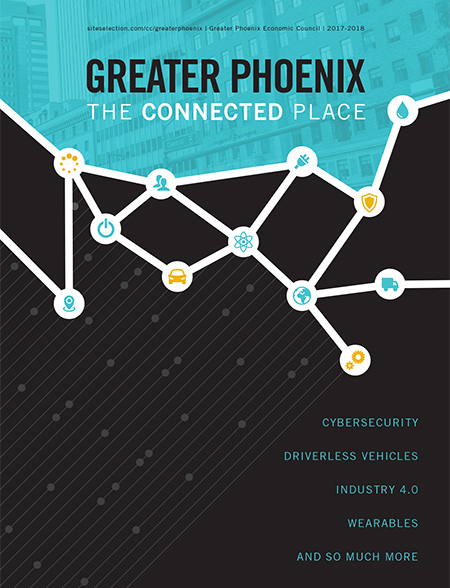 From wearables to autonomous vehicles, Greater Phoenix is "The Connected Place."