Where complex businesses check all the location boxes
By Mark Arend
Jerre Stead, executive chairman and CEO of Clarivate Analytics, makes the case for the Greater Phoenix region being the best location for advanced business services like his: "We were looking for locations that allow us access to a wide talent pool, coupled with affordable living, flexible language skills and easy travel," Stead says. In February 2020, Clarivate Analytics finalized a 30,000-sq.-ft. lease in Chandler where it plans to employ about 150.
Headquartered in Philadelphia and London, the company applies insights and analytics to innovation lifecycles in such fields as scientific and academic research; patent intelligence and compliance standards; pharmaceutical and biotech intelligence; and trademark, domain and brand protection. The Chandler office will be one of three new Centers of Excellence, with the other locations in London and Malaysia. The operation in Chandler will include divisions from finance, administration, sales and customer service, along with several executive positions.
A closer look at Jerre Stead's location requirements shows how right he is.
Access to a wide talent pool? Check. Greater Phoenix is home to more than 40 universities and higher education institutions, including Arizona State University, Maricopa Community Colleges and Grand Canyon University. Employment growth is forecast to increase by 17% in the region over the next decade compared with 9% nationally.
Diverse language skills? Check. According to the Census Bureau's ACS 1-Year Estimate, 38% of Phoenix citizens are speakers of a non-English language, which is higher than the national average of 21.9%. In 2018, the most common non-English language spoken in Phoenix was Spanish; 31.5% of the overall population of Phoenix are native Spanish speakers.
Easy travel? Check. Phoenix Sky Harbor International Airport, a major hub for American Airlines, served more than 46 million passengers in 2019. Passengers can travel to 128 destinations from Sky Harbor on more than 20 airlines.
"Phoenix is very much an established labor market when it comes to advanced business services," says Paul Komadina, senior managing director and market leader for CBRE Arizona. Large shared services operations in the valley include JP Morgan Chase, Northern Trust, American Express and Silicon Valley Bank, to name just a few. While this can increase competition for these jobs, Phoenix continues to grow rapidly, which helps replenish the workforce for these employers. In comparison to other southwestern markets, Phoenix offers a large and expanding labor pool, favorable business climate and excellent flight accessibility.
Why Greater Phoenix keeps winning
Other recent business services deals in Greater Phoenix echo Clarivate Analytics' location priorities and reveal some new ones.
WeTravel, an online platform for small travel companies to collect payments, manage bookings and pay suppliers will create at least 100 jobs in the next three years across their new operating and sales location in Scottsdale. The company considered multiple markets, including Salt Lake City, Atlanta, and Denver, but ultimately selected Scottsdale due to the city's competitive costs to do business, the availability of talent, and access to local resources. In addition, the executive team was energized by the entrepreneurial spirit of the region and felt alignment with the regional leaders.
"We're very proud and excited to bring WeTravel to Scottsdale," says Johannes Koeppel, CEO and co-founder of WeTravel. "The talent pool, the economic climate, and the business infrastructure make Scottsdale an obvious choice for our company's expansion."
Companies should not take that talent pool for granted, cautions CBRE's Komadina.
"While Phoenix's high quality of life can translate into a more sustainable workforce over the long term, the greatest external driver of employee turnover is employer competition," he explains. "Strong labor market conditions can increase turnover rates for employers, because there are so many other job opportunities available. Phoenix's strong base of advanced business services can increase turnover for companies if they are not staying competitive with wage rates, career path opportunities and other job perks and benefits."
Front, the company replacing corporate email with an inbox built for teamwork, will create up to 50 new jobs in Greater Phoenix in 2020, with offices in San Francisco and Paris. Their goal is to increase productivity and teamwork, says Anthony Kennada, Front's chief marketing officer and head of their Phoenix operation.
"While the world of work has changed all around us, one paradigm has remained constant for over three decades: our corporate email. As a result, we are more overworked, more burned out and are lacking vocational fulfillment unlike ever before," says Kennada. "That's the problem Front is solving in the marketplace, and as a result, is helping thousands of businesses work together with purpose. I am thrilled to help the company usher in its next chapter of growth, and even more excited to be doing so in Greater Phoenix, adding yet another case study to the evolving story of the city's incredible startup ecosystem."
Greater Phoenix Greater Together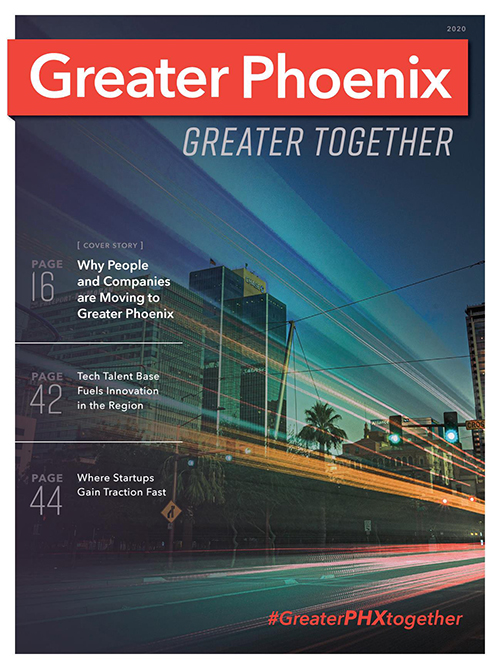 Greater Phoenix is built on collaboration. From technology hubs to manufacturing, business thrives in Greater Phoenix.