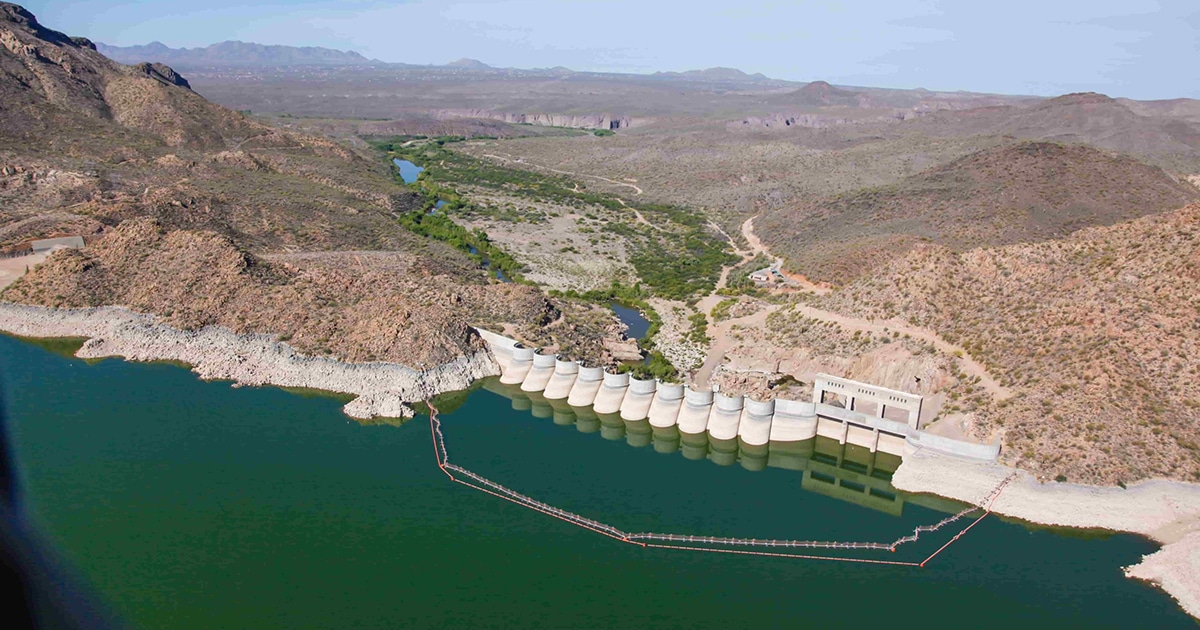 Fast Facts: Arizona's Water Position
Published: 08/13/2021
Updated: 10/26/2022
Arizona Water Overview
Greater Phoenix is a thriving market built within an arid environment. Water has always been a priority, and that is maintained through the recent 21-year drought. Strategic planning has propped up groundwater supply in the region with the intent that reserves could be used during a time of need. Today, that supply can be tapped to support smart economic growth priorities. Alongside massive investments at the State and Federal level amounting to more than $5 billion in funding, Arizona continues to advance planning around conservation, distribution and augmentation to address Arizona's future water needs. An improved water infrastructure will create efficiencies in water management and conservation that preserve Arizona's water future.
Water Position
Arizona remains below its 1957 water usage levels due to increased conservation methods and a decreased demand for water used in agriculture.
The state has 1.75x more water stored than it uses, with 12-million-acre feet (MAF) of water stored in reservoirs as well as underground.
Arizona is a national leader when it comes to reuse of water. More than 89% of the water that enters the Greater Phoenix waste stream can be reclaimed and treated for potable use.
There are regulations in place to protect our water supply while allowing for continued economic growth. The 1980 Groundwater Management Act includes a stipulation that requires a designation or certificate that assures a 100-year assured water supply before development.
Careful planning and investment have produced a reliable and well-managed water supply, but further investment is necessary to support future growth.
Arizona is aggressively investing in its multi-faceted portfolio of water supplies and advanced programs for managing groundwater.

$4 billion in funding has been approved through the Inflation Reduction Bill to compensate farmers who voluntarily reduce their water deliveries under short- term or multi-year agreements.
$1.2 billion approved by the legislature as part of Gov. Doug Ducey's water package can be used over three years to boost long-term water supplies and conservation efforts.
Tier 2 Shortage Announcement
The U.S. Bureau of Reclamation declared a Tier 2a Shortage for the Colorado River in 2023, determining that Arizona would receive 592,000 acre-feet less Colorado River water. This is a 3% decrease from the 18% cut that started in 2022, and an additional 80,000 acre-feet, representing a 21% decrease overall since 2022.
Central Arizona Project (CAP) is the 336-mile system that brings Colorado River water to central and southern Arizona. The majority of CAP water is used for agriculture, which represents more than 70% of water usage statewide.
Under the first round of Tier 2 cuts, the Gila River Indian Community, Tohono O'odham Nation and some cities, including Phoenix, will lose CAP water.
If Lake Mead drops below 1,045 feet, a second round of Tier 2 cuts will be triggered, leading to a loss of about another 50,000 acre-feet in Arizona.
The Colorado River is only a portion of Arizona's entitlement at about 40%. While we were historically too dependent on groundwater in the Valley, CAP propped up that groundwater supply — the intent of which was to set aside groundwater for times of need.

Programs implemented and reduction strategies have created a resilient system and have worked to transition us away from Colorado River water while maintaining our economic growth engine.
Advanced Manufacturing & Data Centers
Advanced manufacturing companies create high-wage jobs which are critical to the diversification of the state's economy.
Industrial use only accounted for 6% of Arizona's annual water usage in 2019.
More than 90% of the water used in the manufacturing process is reused and recycled.
Data centers are necessary to Greater Phoenix's ability to attract investment from advanced back office and security operation centers, and high-tech, advanced manufacturing and semiconductor companies. Many data center users are advancing cooling technologies to reduce their water consumption levels.
If you have additional questions, please reach out to info@gpec.org.