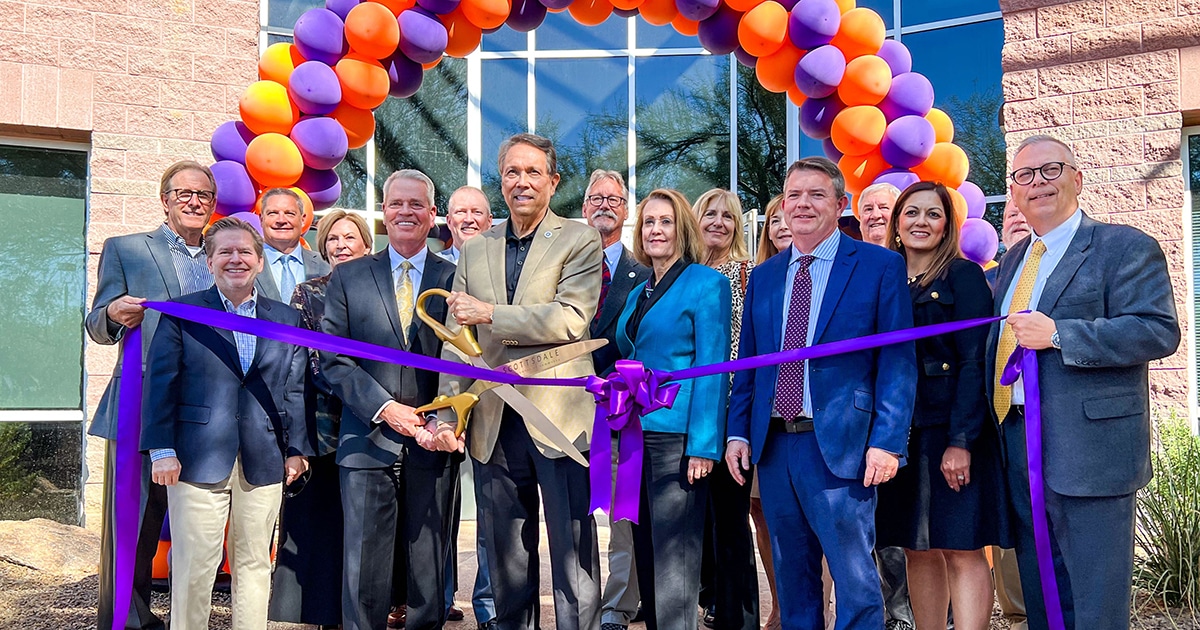 Vitalant unveils new national office in Scottsdale; Celebrates 80 years of saving lives
Published: 10/26/2023
Updated: 11/20/2023
Vitalant commemorates 80-year anniversary with HQ ribbon-cutting
SCOTTSDALE, Ariz. (Oct. 25, 2023) — Vitalant, a national nonprofit blood services provider founded in Arizona 80 years ago this month, commemorated its milestone anniversary and the ribbon-cutting for its new national office in Scottsdale on Wednesday, Oct. 25. The celebration signifies a new chapter in the organization's rich history as it continues to help save and improve lives through blood donations, laboratory and clinical services, and groundbreaking research.
Founded in 1943 as the Salt River Valley Blood Bank in Phoenix and later renamed to United Blood Services, Vitalant was among the first blood centers to emerge post-World War II, with a vision to meet the transfusion needs of civilians. In 2018, 10 blood centers spanning 28 states united and re- branded as Vitalant while calling Scottsdale home for its national office.
Today, Vitalant comprises about 4,000 employees nationwide, nearly 700 of whom are in Arizona. Along with hundreds of thousands of volunteers, including blood donors, blood drive hosts, and other supporters, these individuals make lifesaving care available for patients at approximately 900 partner hospitals nationwide. Even as it has grown into a national organization, Arizona remains the heart and home of Vitalant – it serves 100% of hospitals in Maricopa County and 90% statewide.
The new national office at 9305 E. Via De Ventura in Scottsdale replaces its previous Scottsdale location on Oak Street. About 150 employees work out of the new site, providing support and resources to its nationwide operations. This is the second investment Vitalant has made in the area in recent years. In 2020, Vitalant opened a state-of-the-art blood collection and processing facility in Tempe. It also operates a blood donation center at 15170 N. Hayden Road in Scottsdale along with six other donation centers throughout the state.
"From a humble yet bold beginning in 1943, we have grown and evolved to meet the modern transfusion needs of patients," said David R. Green, president and CEO. "Our new national office marks another chapter in our rich history, providing the foundation to continue our lifesaving mission to save and improve lives."
About Vitalant
Vitalant (Vye-TAL-ent) is one of the nation's largest nonprofit blood and biotherapies healthcare organizations, providing hospitals and patients across the U.S. a safe blood supply, specialized laboratory services, transfusion medicine expertise and world-renowned research. Individuals generously donating blood, volunteering and giving financially are essential to our lifesaving mission. Learn more at vitalant.org.