The doctors are in: Greater Phoenix is quickly becoming a hub of healthcare education
by Savannah King
With more than $3 billion in bioscience capital expenditures earmarked for investment in Greater Phoenix over the next two years, the region is a thriving biomedical hub. These investments will create more than 7,000 healthcare and biomedical jobs. Fortunately, Greater Phoenix is home to some of the most innovative and forward-thinking educational institutions in the country.
The Phoenix Biomedical Campus (PBC) is a 30-acre complex in downtown Phoenix with more than 6 million sq. ft. of research, academic and clinical facilities for students earning advanced degrees in medical professions. It was established in 2004 in partnership with the Arizona Board of Regents, Arizona State University, Northern Arizona University, the University of Arizona and the City of Phoenix.
The PBC is home to a number of worldclass health and bioscience facilities including Mayo Clinic, Dignity Health St. Joseph's Hospital & Medical Center, Translational Genomics Research Institute, National Institute of Diabetes and Digestive and Kidney Disorders, University of Arizona College of Pharmacy-Phoenix, and VisionGate.
In March 2019, ASU and Wexford Science + Technology broke ground on a new building, the PBC Innovation Center, at the Phoenix Biomedical Campus. Wexford Science + Technology is a real estate development company that works exclusively with universities, academic medical centers and research institutions to develop vibrant, mixed-use, amenity-rich knowledge communities.
"Wexford is all in on creating this knowledge community in downtown Phoenix," says Jim Berens, founder and CEO of Wexford Science + Technology. "The reason we are so confident about its success is that when we look around the country at these kinds of projects, it starts with having a world-class university — and here, we have that in spades with Arizona State University, their research enterprise and their commitment to creating jobs and building communities."
Care for health
Creighton University recently broke ground on a new 183,000-sq.-ft. Phoenix campus. The Jesuit, Catholic university based in Omaha, Nebraska, is being built in midtown Phoenix where it will eventually house hundreds of health science students. The expansion will include a four-year medical school, nursing school, occupational and physical therapy schools, pharmacy school, physician assistant school and emergency medical services program.
"The next generation of health professionals will be built right here," said Gov. Doug Ducey, who lauded the vision for the campus, which is eventually expected to serve nearly 900 Creighton students studying to be physicians, nurses, pharmacists, physician assistants, and physical and occupational therapists. "It was just about a year ago we came together to announce this project, and now it's already being built."
Creighton University's College of Nursing, which launched its first Phoenix-based Accelerated Bachelor of Science in Nursing program in January 2018, will move into a temporary home at Park Central effective January 2019. The School of Medicine, which first came to Phoenix in 2009, will continue operating its third- and fourth-year programs out of space adjacent to Dignity Heath St. Joseph's Hospital and Medical Center until construction is completed in spring 2021.
The new Phoenix campus for Creighton will meet the university's current needs while providing ample room for expansion in the future, and the central Phoenix location makes it convenient for students doing their residencies and other studies at nearby hospitals.
"Creighton University is preparing for an exciting new era in Phoenix, one that combines our tradition for educational excellence in the health sciences with our distinctive Jesuit, Catholic mission," says Rev. Daniel Hendrickson, SJ, PhD, president of Creighton University. "Creighton University has strong connections to the Arizona medical community, and we look forward to expanding our impact by educating many more exceptionally qualified healthcare professionals to serve the community moving forward."
For Linda Hunt, CEO of Dignity Health Arizona, which includes St. Joseph's and four other hospitals, the new campus fulfills a longtime dream for Dignity Health leaders.
"We had a dream years ago to find a Catholic partner that could offer medical education training to students," she said. "Today, we are realizing that dream for Dignity Health and St. Joseph's Hospital. This creates a place where students can be educated, with a strong spiritual component."
The combined resources of Valleywise Health, Dignity Health, District Medical Group and Creighton University will provide access to high-quality teaching environments for Creighton students and medical residents, says Steve Purves, president and CEO of Valleywise Health.
"We at Valleywise Health are very pleased to be part of this exciting venture, which leverages our vision to be nationally recognized for transforming care to improve community health," says Purves. "Our innovative Creighton Alliance will ensure that this health sciences campus and medical school provides exceptional student clinical training experieces, which are second to none."
Greater Phoenix Greater Together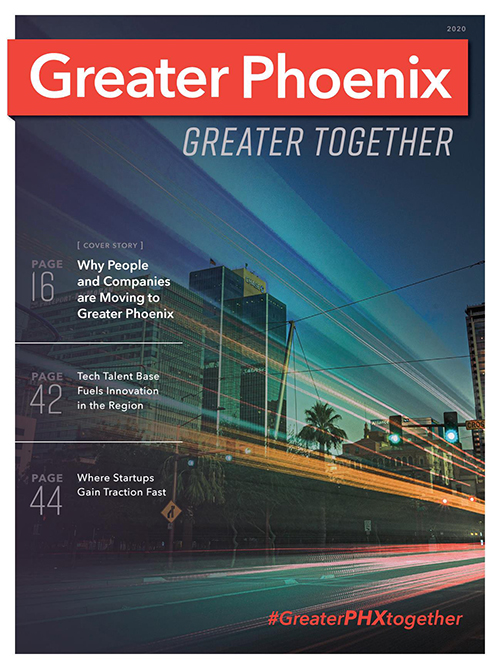 Greater Phoenix is built on collaboration. From technology hubs to manufacturing, business thrives in Greater Phoenix.